Greta Thunberg burst onto the environmental activist scene in 2018, as a 15-year-old who already had climate change in her sights and takes no prisoners in telling world leaders exactly how unhelpful they are in the pledges to help tackle climate change.
Numerous memes have circulated the internet over the last three years. I've picked some of my favourites (and tried to find funny ones rather than rude or degrading ones) as climate change is important, and whilst she might not be everyone's cup of tea; her cause is a good one.
Who is she?
Greta Thunberg is Swedish, born in Stockholm in 2003. She first heard about climate change in 2011 and was shocked nothing was being done about it. Her parents didn't support her as they wanted her to get her education first. Greta's parents do now appreciate what she does and that it makes her happy. Her young age, and the diagnoses of Asperger's Syndrome, OCD and selective mutism often mean she comes under attack by those who wish to discourage her.
1. Guess which one knows more?
This is one of my all-time favourite memes featuring Greta. It plays on the tired narrative that because she's young, she cannot know what she talks about, but we all know that Former President of the United States can throw a tantrum better than most toddlers. Greta may be young, but she knows the score.
---
2. Climate change and the Pandemic have a fight.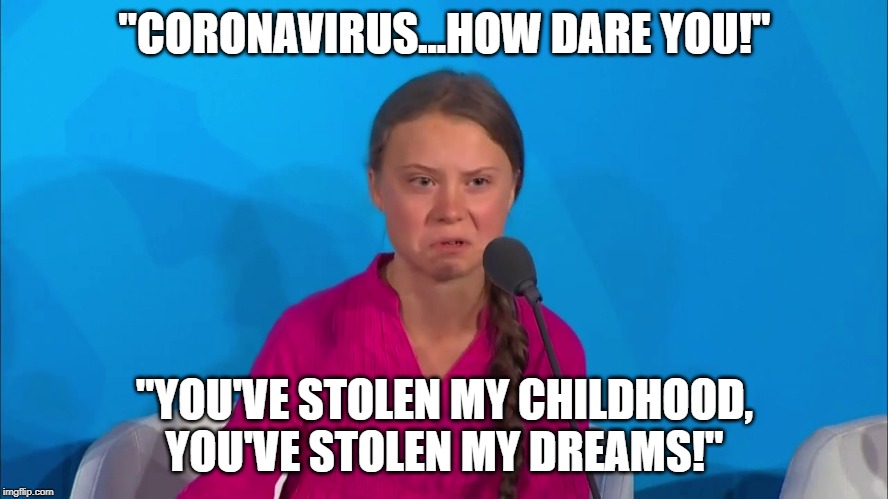 Nobody saw the pandemic coming (well, actually plenty of people did, but that's a whole other article) and it was like God wanted to make sure we still knew he was there, calling the shots after Greta's famous "How dare you!" speech.
---
3. There's nothing left if they go after your differences.
Greta has had to deal with people, mainly those on the right, mocking her for having Asperger's syndrome, for being young, for being different.
She has been attacked in the press and by some very high-profile leaders who all wish to discredit her hard work. However, they don't succeed, she takes it like water off a duck's back and often trolls them with their own words later on.
---
4. She's even got bands getting involved.
We can all breathe a sigh of relief at the news that due to environmental reasons, Coldplay will not be touring anytime soon.
See she does help the world!
---
5. Trump and Greta
I think everyone can agree that Donald Trump is not Greta's biggest fan, and she certainly feels no love for him either. Their twitter spats have kept us entertained over the past two years (until Donald Trump got suspended from social media).
A firm climate change denier, Trump often appears in memes involving Greta Thunberg. This was one of the nicest ones I found!
---
Greta will not go away easily, yes, she has made mistakes, show me a person who hasn't! However, climate change is important and there are other people out there who should be listened to as well as Greta. Instead of political point-scoring, it should be about finding solutions to make sure the planet is safe for generations to come.